Why Choose Our Reseller Web Hosting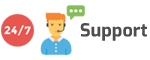 Reseller Hosting Technical Specifications
Software
CloudLinux 6.9
Python 2.6.6
Latest cPanel
PHP 5.2/5.3/5.4/5.5/5.6/7.0
Databases
MySQL 5.1.68
phpMyAdmin 4.6.6
FTPES Supported
Additional Software
WordPress
Joomla, Drupal, Prestashop
Zend Engine
ionCube Loader
Security
Password protected folders
Hotlink Protection
Leech Protection
Frequently Asked Questions
Reseller Hosting allows you to host multiple clients and allow them to manage their own orders independently. With Reseller Hosting you can become a web hosting provider without having to manage your own web server or data-center. You can create your own custom hosting plans on our hosting infrastructure, use your brand name and sell it to your customers!

WHM, also known as 'Web Host Manager' is an amazing tool that allows administrative access to the back end of cPanel. Our Reseller Hosting plans are managed through WHMCS or cPanel and you can create custom hosting packages with WHM.

Our Reseller Hosting plans come with WHMCS, an all-in-one client management, support and billing solution for online web hosting businesses. You can manage your clients successfully with the robust automation and support that WHMCS offers.

If you are selling this product to your clients directly, you as the Reseller will be the first point of contact for all client support queries. You can then contact our support team for any further assistance which may be required when your clients face issues.

Migration to our Reseller Hosting services is absolutely FREE as long as the following points hold true for your current Hosting Package at a different provider:

Your Package should be managed using cPanel
Each website does not use more than a maximum of 4GB of disk space
Your Package should not have more than 50 cPanel accounts. If you do have more than 50 cPanel accounts, the additional accounts will be migrated at $2/account

Yes. As your business requirements grow, you can upgrade your Reseller Web Hosting plan accordingly. The difference in price of the hosting plan must be paid in order to choose an upgrade.

Yes, you get Email Hosting on all our Reseller Hosting plans through the cPanel Webmail. For more optimized email solution you can purchase our Email Hosting solution.