Unlimited One
1 Domain
Unmetered Space
Unmetered Bandwidth
Unmetered Email Accounts
Free SSL
Free cPanel
1-click Install Enabled
USD
85.71
/year
Order Now
Unlimited Three
3 Domains
Unmetered Space
Unmetered Bandwidth
Unmetered Email Accounts
Free SSL
Free cPanel
1-click Install Enabled
USD
108.57
/year
Order Now
Unlimited
Unlimited Domains
Unmetered Space
Unmetered Bandwidth
Unmetered Email Accounts
Free SSL
Free cPanel
1-click Install Enabled
USD
137.14
/year
Order Now
Why Choose Our Unlimited Hosting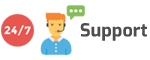 Unlimited Hosting Technical Specifications
Software
Softaculous
Perl
Python 2.6.6
PHP 5.3/5.4/5.5/5.6/7.0/7.1
Databases
MySQL Client 5.1
phpMyAdmin 4.6.6
MySQL admin tools
Additional Software
Zend Engine
Zend Optimizer
Zend Guard Loader
ionCube Loader
Security
Password protected folders
Hotlink Protection
Leech Protection
Frequently Asked Questions
Unlimited Hosting is best suited for any business website that is just getting started online. It falls under shared hosting as multiple websites share the same server, to reduce the cost for all

Purchasing a new domain name is not necessary with your Unlimited Hosting Plan. You can use your existing domain with our Unlimited Hosting Service without having to purchase a new one. During the checkout flow, you just have to select the option of using an existing domain name and you are good to go

Unlimited Hosting service include cPanel, the most popular and powerful Web Hosting Control Panel. Now managing your databases on phpMyAdmin and adding or removing email accounts can be done within the cPanel.

With the Unlimited One Hosting Plan, you can host only 1 website/domain. However, on the Unlimited Three and Unlimited plans you can host multiple websites/domains according to the plan you choose.

Yes, it's included. All of our Unlimited Hosting plans come along with email services through cPanel Webmail. The storage for these emails is shared with your website hosting space and you can create an unlimited number of email hosting accounts. However, if you wish to use a more optimized email solution then you can opt for our email hosting service.

Yes, you surely can! Upgrading to a higher unlimited hosting plan is easy and hassle-free. Our technical team can help you out with it.